---
Crier Quotes
"Ugh, again with these f*ckin' people."
- Punxsutawney Phil
---
Feature
Dr. Phil Ends Show Announcing He'll Return to Home Planet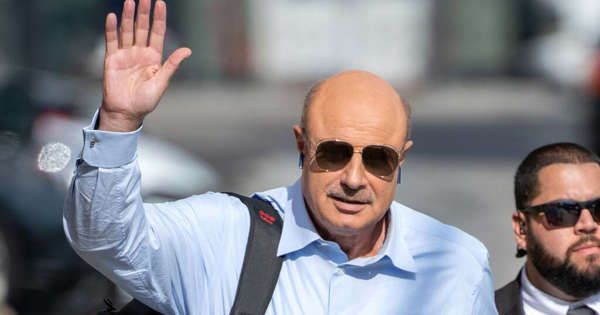 LOS ANGELES — Dr. Phil announced this week that he will end his run of original episodes this spring and return to his home planet shortly after.
Dr. Phil McGraw, or King Banchar XIV as he's known on his home planet Thorian, was sentenced to political exile on Earth after a coup d'etat ousted him and his family from power. He came to Earth in the late 90s, and per the terms of his surrender, was placed under the supervision of Earth's ambassador to the galactic council, Oprah Winfrey.
Periodically, "Phil" would make appearances on Oprah's show as a means of keeping tabs on his whereabouts. However, after a few years, members of the newly installed government on Thorian became paranoid that the long periods between appearances provided too much time for "Phil" to plot revenge. In 2002, he was given his own show that would occupy his time more regularly.
Now, 25 years since arriving on Earth, conditions on Thorian have become considerably more favorable for return as royalists who remained loyal to the crown all these years have now taken back control of the planet's general assembly.
At the printing of this newsletter, "Phil" announced that when he leaves, "I'm taking Tom Cruise with me."
---
Miscellaneous
The Economist released its annual Big Mac index. The Economist notes while Big Mac inflation in some instances is a little higher than normal, you shouldn't be personally worried about Big Mac inflation until you can't see your feet.
In an interview on Australian television Monday, Bill Gates was asked if he regretted his relationship with Jefferey Epstein. Gates said he "regrets having dinner with Epstein," before reminding the interviewer that he doesn't get to choose who else satan invites.
Michael Jackson's nephew Jaafar Jackson will play him in an upcoming biopic. Producers of the film said casting the role for Michael was a tough choice that came down to two very talented actors. Although it didn't work out this time around, they wish nothing but the best for Danny DeVito.
Republican Rep. George Santos of New York announced Tuesday he is temporarily stepping down from his two congressional committees. While he steps down from the committees, Santos said he will "continue to steadfastly fight for every American as their President."
The Senate has cleared its first legislative measure of the new session with a bipartisan resolution designating January as National Stalking Awareness Month. No one in the Senate expected the stalking awareness resolution to be the first of the new year with many saying, "it just kinda crept up on us."
According to reports, Chinese scientists have cloned three of what they're calling 'super cows.' Drinking the milk of 'super cows' is the latest attempt of a decades-long program the Chinese government calls "Operation Get Taller."
A new study shows that humans have the genes for a full coat of body hair. The study was conducted by your dad's back.
The Food and Drug Administration plans to propose relaxing restrictions to let gay and bisexual men in monogamous relationships donate blood without requiring them to abstain from sex, ending a policy imposed early in the AIDS crisis. After numerous reported instances, the FDA has politely asked that gay and bisexual men donating blood please refrain from listing their blood type as I-B Fabulous.
According to new reports, the Spice Girls will reunite to perform at the coronation of England's King Charles III. "Ugh! Would it have killed you to get someone younger?" Said, Prince Andrew.
This Thursday was Groundhog Day. Punxsutawney Phil predicted six more weeks of winter, and Staten Island Chuck predicted six more weeks of Gabagool.