---
Crier Quotes
"Okay, perfect, now don't move."
- Madame Tussaud
---
Feature
Tom Brady Says He Looks Forward to End of Season When He Finally Gets Put Out to Stud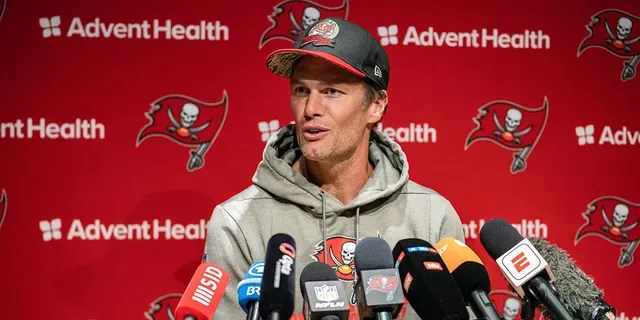 TAMPA BAY — During a press junket before Monday night's Wild Card clash against the Dallas Cowboys, Tampa Bay Buccaneers quarterback Tom Brady said while he still wants to win, he can't help but look forward to the of the season when his ownership group finally puts him out to stud.
"There are no two ways about it, Tom's a thoroughbred," said leading partner of Tom's ownership group Avery Browne, "grandaddy knew when he first picked him off the auction block that he was special. Mind you, Tom didn't look like much back then. A bit gawky in stride like a pup whose feet were too big for his body. That's why he fell so far in the rounds. But like Michelangelo with a slab of solid marble, grandaddy saw what was underneath. I remember that day he came home and walked Tom down the back of the trailer, he told me, 'Avery, sugar, I think we got ourselves a Sir Gallahand,' and after over two decades of excellence, it's time to cash in on that golden seed."
Brady told reporters the move to retire Claiborne Farm in Kentucky, where mares of suitable genetic makeup would be flown in from around the globe to bare platoons of his offspring for sale to the highest bidder, was meant to begin back in 2020 following the success of his seventh Super Bowl win. Unfortunately, the untimely death of their first in line, Ruth Badder Ginsburg, and the global disruption due to the COVID pandemic, meant Brady needed to be sent back out onto the field while future arrangements could be made. The group came close again following the 2021 season but reversed course a few short weeks later. But Browne told us the time is now right after getting rid of "the final obstacle" — Gisele.
"It's something my dad and I could only dream of while playing catch in the backyard when I was a kid," said Brady, "and now that it's almost here, I sometimes have to pinch myself to make sure I'm not dreaming."
At the printing of this newsletter, rumors were circulating that Brady's ownership group had received a call to purchase rights of first refusal for the first 35 of Tom's offspring from the Saudi Government.
---
Miscellaneous
A schoolteacher was shot and wounded by a six-year-old during an altercation in a first-grade classroom. The teacher said she should've known something was wrong during playtime as she hadn't heard "goose" but all her students were screaming "duck! duck!"
Candy maker Mars announced that limited edition all-female M&M packs will include only the candy's trio of female characters to "celebrate women everywhere who are flipping the status quo." But Mars isn't the only candy maker honoring women with its packaging as Payday will now read "83 Cents."
Guinness announced it's raising the price of a pint in Ireland. Irish citizens said they don't mind the increase in pints as long as they don't change the price of a keg.
Wired Magazine published an article on how to stop falling asleep on the couch during a movie. We won't give the whole thing away, but it involves "clamps."
Papa Johns recently unveiled their new Papa Bites — A spokesperson for Papa Johns said the new bites strike that delicate balance between small enough to be eaten in one bite and large enough to block an artery.
Whale Watchers off the coast of California report seeing a grey whale give birth to a calf right next to their boat. Members of the group say they're still trying to figure out when there was more screaming — when the calf came out or when the harpoon went in.
In a recent article from The New York Times, executives report preferring to address workplace challenges after "spending six minutes in icy cold water, breathing through the pain." Women engaging in these meetings notice their male counterparts are more susceptible to their ideas because the ice water makes their ego shrink.
According to the United Nations, the Earth's ozone is in recovery following a ban on pollutants in China. The UN said the first stage in the process of recovery happened when the ozone admitted it had a problem.
This week, classified documents were found at President Biden's think tank office. The President was shocked, saying, "Usually, when they find a Biden has been housing illegal activity right under his nose, it's Hunter."
In an internal memo, Disney CEO Bob Iger told hybrid employees that they will have to work in an office at least four days a week starting March 1. Said Iger: