---
Crier Quotes
"I don't stop until I see blood."
- Jason Mamoa on sharpening pencils
---
Feature
After Losing Runoff, Herschel Walker Challenges Raphael Warnock to Swim or Bike Off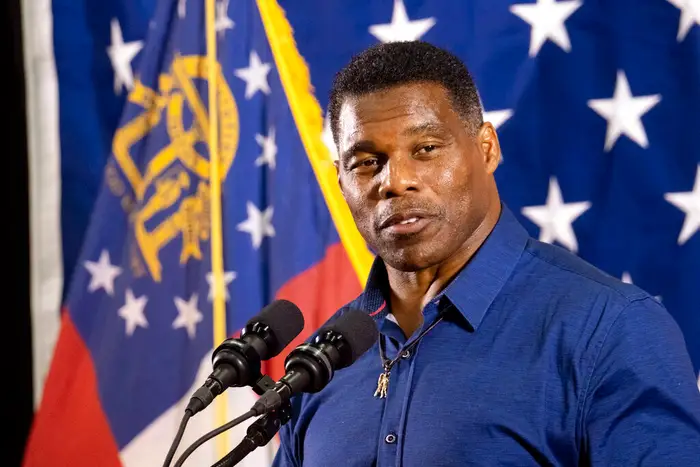 ATLANTA — Doing his best to understand the American political system, Herschel Walker concluded his concession speech in this week's senate runoff against incumbent Raphael Warnock by throwing down the gauntlet, challenging Warnock to his choice of swim- or bike-off.
"Here's what people don't understand," said Walker, "running is actually not even my best event. It's like . . . third best. Maybe fourth. I'm a far better swimmer than people give me credit for, and when it comes to bikes, shoot, they used to call me 'wheels,' baby, so like I said, any place, any time, you name it, and I'm there."
At the printing of this newsletter, eyewitnesses confirm hearing Walker tell Warnock he'd even go as far as competing in a bake-off.
               * * *
Stories We're Watching
Thousands of American Children Return to Work in Textile Mills, Coal Mines, and Meat Packing Plants to Help Support Family Streaming Memberships
CHICAGO — With the weight of record inflation pressing down on them, American families struggling to maintain their standard of living are turning back the clocks as they send their middle and elementary-age children into the employment of textile mills, coal mines, and meat packing plants to help support their family's streaming memberships. When asked why not take the ad-supported option, proud American parents told us, "In this house, we don't accept handouts." Sources close to The Crier in West Virginia confirm seeing hundreds of haggard, soot-covered seven-year-olds twist the caps back on their PAW Patrol thermoses as the chow whistle blew — a chorus of tiny voices singing Swing Low Sweet Chariot in unison as they single filed their way back into the mines.
Patrons Cut Ears Off At Immersive Van Gogh Exhibit
DETROIT, MI — According to the exhibit's director, patrons are given the option of having their ears wrapped in newspaper to be taken home or enhance their experience by having their ear delivered to a prostitute at a nearby brothel — just pay shipping and handling. Eyewitnesses confirm seeing bandaged patrons of the Van Gogh exhibit exiting the gift shop and heading directly across the street to the new immersive Evander Holyfield exhibit.
---
Miscellaneous
A chef in Texas learned American Sign Language in order to communicate with deaf customers. "Big deal," said anyone who's ever asked for a check.
Data from Instacart shows West Virginians bought the most butter compared to the rest of the country last year. Instacart says half of that butter was used for food, while the other half was used to help West Virginians get through doors.
Food manufacturers are now racing to introduce "thaw and eat" products. The products include frozen sandwiches, pies, and waffles that go from freezer to plate without needing a microwave. The "thaw and eat" products can be found at your local grocery store's Divorced Men's Aisle.
A suicide prevention net on the Golden Gate Bridge costing $400 million is behind schedule. In the meantime, the bridge will continue offering suicide prevention bungee cords.
In a sign that the worst may be over, Hawaiian scientists lowered the alert level for the erupting volcano Mauna Loa, adding that the eruption would likely end soon. Scientists also say they've discovered what caused the eruption, as it is now understood the volcano was set off after coming home from work to find the dishes still in the sink.
The Loving Bear Puffy — a human-sized teddy bear — could be the gift of the holiday season. The full-size bear is 5' 7" tall but says it's 6' 1" online.
Frontier Airlines has launched a $799 all you can fly annual subscription service. While the subscription does not include a carry-on or checked bag, Frontier says members will receive a parachute.
A new 10-part podcast from Audible, "Mandela: The Lost Tapes," is now available. In delivering the full picture of the man, "The Lost Tapes" often shows the lighter side of Mandela as he does impressions and character voices. Listeners say he's best at doing the British teachers of his youth, but also does a shockingly good Barbara Streisand.
The Boston Ballet is returning with a full staging of "The Nutcracker" — or as it's known in Boston, "The Ex-Wife."
After spending months detained in Russia, Brittney Griner was returned to the United States in a prisoner swap for international arms dealer Viktor Bout. When asked if she spent a lot of her time wondering when help would arrive, Griner shook her head and laughed, adding, "No, after playing in the WNBA, I'm used to nobody showing up."
---
Shameless Plugs
Do you like newsletters? Sure you do. You're reading one right now. Here's a message from another newsletter you may be interested in:
Explore the lighter side of basketball with Crisp Bounce Pass, a twice-weekly newsletter covering the most important parts of the sport. We're talking about hard-hitting topics like how to catch a t-shirt at a game, which March Madness mascots are the friendliest, and the top basketball cameos in shows such as Curb Your Enthusiasm and Whose Line Is It Anyway? It's a grand ol' time, and the only thing missing is you. Let's change that — sign up here.