---
Crier Quotes
"Here you are, Your Highness. 12-year-old scotch - Just the way you like."‌‌
- Ghislaine Maxwell
---
Feature
One Year Later, Dick Cheney Says He's "Deeply Disturbed" by GOP Leadership Not Including Him in Jan. 6 Insurrection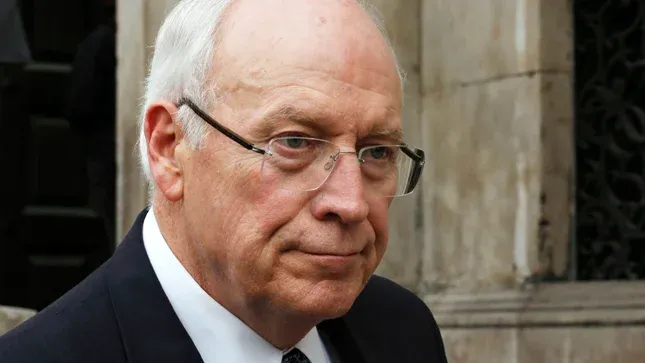 Washington D.C. — Standing shoulder to shoulder with his daughter Liz, former Vice President Dick Cheney was in attendance for Thursday's moment of silence to honor the Capitol Police officers who responded to the Jan. 6 riots in 2021, albeit out of spite.
"See, when I was running things, America actually knew how to overthrow a government, not like this bunch of amateur hacks!" said Cheney. "You don't think I know the first thing about perpetuating a lie? Give me a f*ckin' break. I had this country believing in WMDs like children believe in motherf*cking Santa Claus!"
Shaking his head as he spoke with reporters, Cheney was simply unable to fathom how he could be so callously left in the cold.
"Iraq, Afghanistan, Panama - which, by the way, nobody gives me any credit for, but that's beside the point. What I'm trying to say is that I have more than enough experience in both toppling and power-grabbing, and they blatantly passed over me. Not a text, email, fax, nothing!" fumed the 80-year-old, Cheney.
But the former VP's concerns extend beyond January 6, as he worries for the future direction of the party, "When I was rising up the ranks, we had a way of doing things. If we wanted to cripple a third-world nation with economic sanctions until they submitted to our will or send a black ops unit to assassinate a Latin American dictator, we cleared it with party elders first - it was a sign of respect, dammit! And when we did do it, we sent goddamn specialists, NOT A BUNCH OF SKINHEADS AND KARENS!! Absolutely disgraceful."
After every Republican currently in congress declined his invitation to "patch things up" over a weekend hunting trip, Cheney was last seen purchasing a one-way ticket to Moscow so he could "work with some real professionals who actually know what they're doing."
---
Miscellaneous
The USDA has officially updated its labeling of genetically modified foods from "GMO" to "bioengineered" - and unofficially updated the McRib to "biohazard."
The Consumer Electronics Show took place in Las Vegas this week. Among the new products unveiled at the event was a dog collar that tracks your dog's health and fitness - which is the perfect buy for your giant schnauzer whose resolution is to get down to a miniature.
This week, Pope Francis remarked that people who choose to have pets instead of children are "selfish." His remarks come as he worries about the future of the church - because, as we all know, without new children, the priests might get bored.
The Billionaire heir to Dole Foods Company was accused of hitting his girlfriend, leaving her with a black eye. In his defense, he said she asked for a "fruit punch."
A new poll reports 61% of adults would choose not to go to the moon, even if money were not an object. That number is even more staggering when you consider how many of that 61% willingly go to and pay for Long John Silvers.
The world's oldest person turned 119. When asked what the secret to longevity is, she said, "what?" "I said, what's the secret to longevity?" She said, "I'm sorry, dear, one more time, please." "I SAID, WHAT IS THE SECRET TO LONGEVITY?!" She said, "oh . . . screwing with people."
In music news, Coldplay frontman, Chris Martin, said the band will stop recording music in 2025. Martin said the decision was made as part of his resolution to give people something to look forward to.
Former White House press secretary Stephanie Grisham told CNN that former President Donald Trump didn't just fail to condemn the violence on January 6th, he happily watched the coverage on TV and even rewound to watch again. What sticks with Grisham the most, "is not the fact that he rewound the footage to watch it again, but the soul chilling squirt of his pump-action hand lotion when he did."
This week was the anniversary of the first telegram in 1838. The telegram read "send nudes."
A new survey suggests Americans saved 60 million hours on commuting per day during the pandemic. To put that in context, 60 million hours is roughly the time it takes to get a rapid test at CityMD.
---
Shameless Plugs
Love Newsletters? Yeah, you do. Wanna fill your inbox with more piping hot content? You bet. Are you afraid of clowns? (Not really relevant, but if you are, we get it.) Do you have commitment issues? That's what your mom's "friend," Brenda, who likes playing therapist says! Well, my friend, do we have exactly what you're looking for. The Sample forwards you a different newsletter every day based on your interests with no strings attached. You just tell them what you're into and they send you newsletters. If you like it, you have the option to "Subscribe in 1-click." If you don't, no harm no foul - suck on that, Brenda!
But wait... there's more!
The essence of the web, every morning in your inbox. Tens of thousands of busy people start their day with their personalized digest by Refind. Sign up for free and pick your favorite topics and thought leaders.