---
Crier Quotes
*Exhales* "Jesus F*ck, you weren't kidding - this angel dust kicks like a mule."
- Martha Stewart
---
Features
NFL to Coax Unvaccinated Players by Calling Vaccines "Steroids for Your Immune System"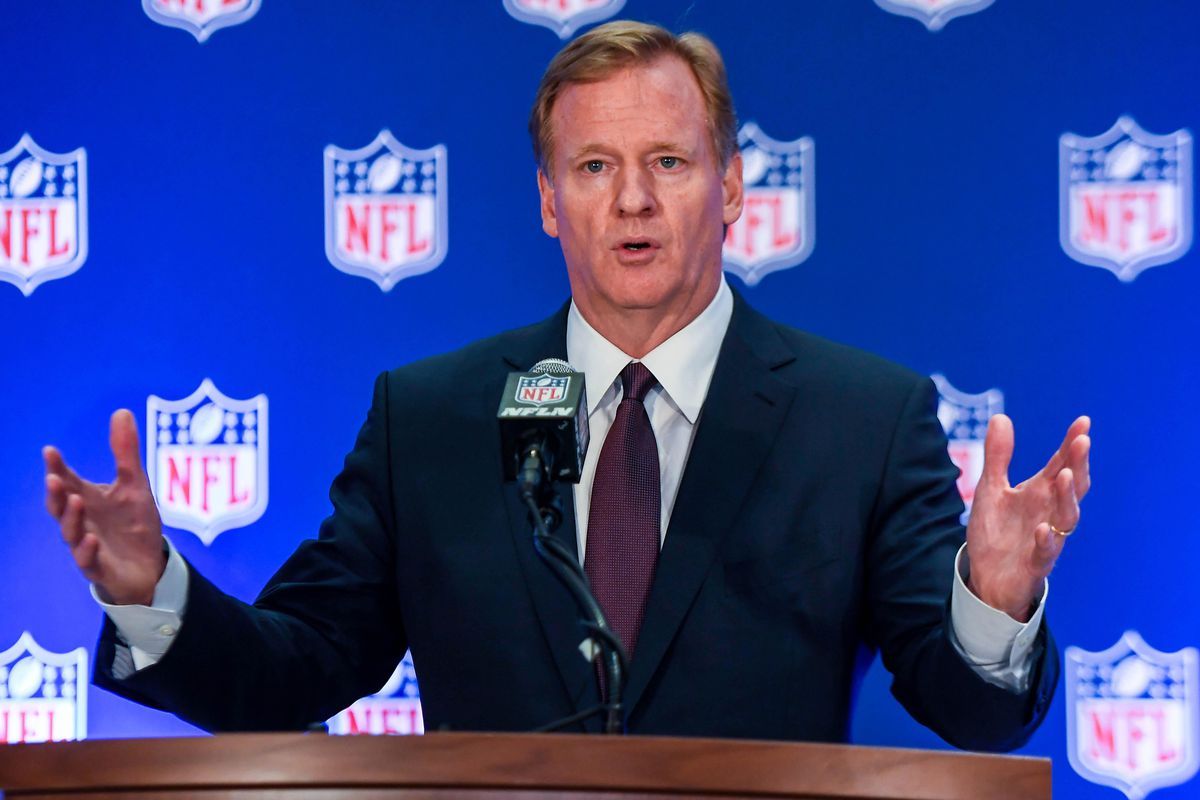 NEW YORK, NY – Citing the need for multiple games to be rescheduled due to team-wide COVID outbreaks, the NFL announced it will now try to coax unvaccinated players into getting the shot by calling vaccines "steroids for your immune system."
"Look, if you want to change someone's mind on vaccines, you gotta speak their language," said NFL commissioner Roger Goodell, "We just want to hit COVID the way our players hit each other - head on. And the scientists tell us that vaccines teach our immune systems to attack this virus the way CTE attacks our players' brains. We want to make sure everyone is safe so that they can continue to maul each other for the entertainment of our borderline deranged, gambling-addicted, alcoholic fanbase. Is that too much to ask?"
Ownership across the league is on board with the new initiative. In fact, New England Patriots owner, Robert Kraft, was seen making several trips to personally deliver cases of vaccine vials throughout the back alleys of Boston's Chinatown. On numerous instances, Mr. Kraft emerged from several facilities after roughly an hour remarkably relaxed and smiling from ear to ear - presumably from thinking about all the players' lives he was helping save (and no other reasons).
---
Customer Throws Boiling Hot Coffee in Face of Smiling Starbucks Barista and Returns Balance to Universe
GREENWICH, CT – In the wake of historic unionization movements at several Starbucks locations, staff morale was high as issues surrounding understaffing, under-training, low wages, and poor working conditions were on their way to being resolved.
A feeling of euphoria filled the apron of Peter Canter as he started his shift Wednesday afternoon. He even found himself bobbing along as the sound system entered the twenty-seventh time through the "Chipmunks Christmas" album.
Disgusted by the sight of the smiling high school senior, Allison Worthington did what she had to do to restore balance to the universe. After noticing her venti apple crisp macchiato with Lactaid milk was underweight by two syrup pumps, Worthington took off the lid and tossed the 195-degree beverage directly in Canter's face.
"See, this is what happens when you give the lower class things like 'a livable wage' - they get lazy. We're all above these people . . . even . . . (*throws up in mouth*) teachers," said Worthington. "And I'll be damned if I'm going to bring my children up in a world where they treat baristas like human beings."
Before getting into her Range Rover, Worthington was seen slashing the tires of all the cars parked in spots designated "employees only."
---
Miscellaneous
This week, Dr. Anthony Fauci said that Santa is fully vaccinated and boosted against COVID-19. And based on his chart, probably diabetic.
The head of the Cherokee Nation said it would be an act of justice to replace Andrew Jackson on the twenty with an indigenous person like Wilma Mankiller. Under the Obama administration, abolitionist Harriet Tubman was supposed to replace Jackson. With Mankiller now in the conversation, whoever replaces Jackson will finally answer the question, "whose guilt makes white people the most uncomfortable?"
This year the White House will dramatically scale back the holiday party festivities due to ongoing Covid-19 concerns, opting instead for smaller open house-style events. The Holiday Open Houses will be timed to 30-minute intervals per guest, with self-guided tours of the holiday decorations. The First Lady herself said the crown jewel of the tour is when guests get to pull a string that kicks a wooden Joe Manchin in the ornaments.
Demand for tech-infused toys is growing and raising alarms about kids' privacy and safety — especially toys with actively recording microphones. This outlet cautions children to be careful about how they interact with smart toys. The last thing you want 30 years from now, when up for a promotion or running for office, are accusations of no verbal consent by Tickle-Me-Elmo.
Sales of canned cooked meat Spam have hit a record high again this year. A spokesperson for the brand said they owe it largely to COVID, as millions lost their sense of taste.
Fourteen federal lawmakers were named in violation of the Stop Trading on Congressional Knowledge Act - or STOCK Act for short. House Speaker Nancy Pelosi said she has no problem with lawmakers trading as "we live in a free-market economy." Moreover, Speaker Pelosi says she's calling for the passage of the "Hereafter Yearly Protection of Congress Rightly Investing Themselves Economically" Act - or HYPOCRITE Act for short.
In a new film, Russian President Vladimir Putin said after the fall of the Soviet Union he drove a taxi to make ends meet. Putin described his cab in detail, then laughed as the interviewer informed him that he had described a hearse. Also this week, Putin met with Chinese President Xi Jinping via Zoom. The meeting was the first between the two leaders that didn't take place in a cave under a volcano.
For the first time in history, a NASA spacecraft has flown through the sun's corona. Scientists hope the spacecraft can help them understand why the corona is even hotter than the sun's surface. So far, initial data shows that, surprisingly, it's not the heat but the humidity.
MasterClass announced its White House series. Instructors include Bill Clinton, Hillary Clinton, and George Bush. Each will teach courses on their area of expertise: Hillary teaches covering your tracks. Bill teaches grooming. And George teaches the alphabet.
A Florida man was thrown off a plane for wearing a thong for a mask. After returning home from the exhausting ordeal, his wife said she was too tired to cook, but he assured her he'd be fine eating out.
The Senate voted to raise the debt ceiling by 2.5 trillion - which will keep the government running until 2023. By then, Senate Democrats hope the majority of their infrastructure projects will be complete - That way, the next time they discuss the debt, they'll have more road to kick it down.
---
Shameless Plugs
Love Newsletters? Yeah, you do. Wanna fill your inbox with more piping hot content? You bet. Are you afraid of clowns? (Not really relevant, but if you are, we get it.) Do you have commitment issues? That's what your mom's "friend," Brenda, who likes playing therapist says! Well, my friend, do we have exactly what you're looking for. The Sample forwards you a different newsletter every day based on your interests with no strings attached. You just tell them what you're into and they send you newsletters. If you like it, you have the option to "Subscribe in 1-click." If you don't, no harm no foul - suck on that, Brenda!
But wait... there's more!
The essence of the web, every morning in your inbox. Tens of thousands of busy people start their day with their personalized digest by Refind. Sign up for free and pick your favorite topics and thought leaders.