---
Feature
Man Finally Acquires Enough Tickets to Purchase Top Prize at Dave & Busters … But at What Cost?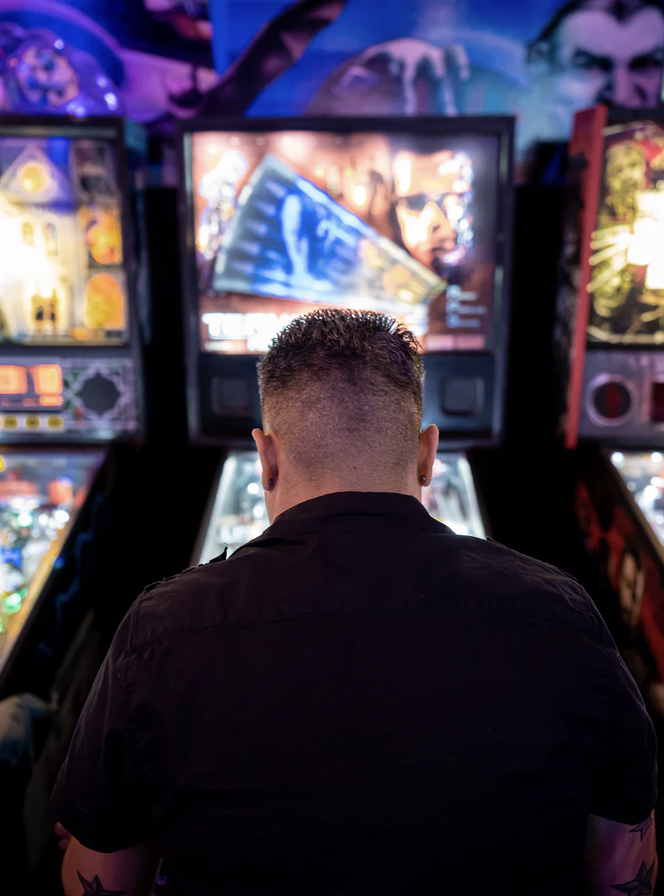 The Lede:
As tickets spewed out the mouth of a giant bass, tears streamed down the face of Alan Markawitz - he had finally done it. The gallery of family and formerly close friends looked on as Markawitz - a shell of the man he once was and could have been - lurched his way to the ticket counter. At last, uttering those four sweet words "I'll take it all."
Boy meets girl meets Dave meets Buster
Alan Markawitz and Sydney Rosen locked eyes at Drew Feldman's bar mitzvah on the dance floor of the D&B private party room - as Alan tells it, "Drew wasn't the only one who became a man that night."
Alan and Sydney continued dating throughout high school and college. They made it a point of returning to that very same Dave & Busters every year in honor of that fateful night - taking pictures in the same photo booth in which the nipple made its first appearance.
Then, in the summer after their senior year of college, everything changed. That summer, Dave and Busters threw down the prize gauntlet - 25 million tickets, and "the store is yours - one of everything behind the counter"
The Slippery Slope
At first, Sydney recalls it as a passing fancy:
I didn't think much of it when he brought it up, you know. It's one of the things you just say "yeah, right. 25 million." You don't think the person is actually serious. I mean, we had our whole lives ahead of us - I was starting my first year of fashion school and Alan had landed a job at T. Rowe Price - the world was ours. But Alan … he just … he just couldn't let it go.
Days turned into weeks, weeks turned into months, and Sydney could only watch on helplessly as the obsession took hold. Alan often drifted in the middle of conversations, visualizing the perfect run on Dance Dance Revolution. Then came the physical mutation. A diet solely comprised of "Beastmode Bacon Burgers," "Bavarian Pretzels," "Cantina Nachos," "Stuffed Cinnamon Sugar Churros," and "Big Daddy Chocolate Cake" began to take its toll. Alan's body transformed into an amorphous blob - a proverbial bean bag chair supported by two gelatinous stumps.
Paying the toll
One by one, friends began to pull away - especially when things when sour for Alan during a cold streak in the spring of 2018. Feldman relives the experience:
It got bad for him - especially at the height of the cold streak. Rumors began flying. One went around that he started turning tricks in the Star Wars Battle Pod - rubbing out many a "Dave" till he busted for 1,000 tickets a man. Another said he'd moved in under the Skee-Ball row and told riddles to children - they called him the Galaga Golem … There's just no coming back from that.
In the end, Alan got his prize - in the process, he lost his job, his hair fell out in patches that could only be described as rorschach, and he developed acute vision loss via retinal detachment. He regrets nothing. Alan has since moved back with his parents. He makes a modest living by arbitrage trading Pokemon cards on eBay.
Sydney left Alan for Drew Feldman. They live in Connecticut and have two kids and a German Shepard.
---
Sound Bites
Who's spilling the dirt on Hollywood Whitewashing…
The Creature of the Black Lagoon, in a sit down interview with our Entertainment editor Chaz Leone. Highlights of the interview below:
You know, originally, they were called Black Walkers - but they put an end to that.
Tell me why a movie can't have two black creatures before it gets labeled a "black creature movie"?
Don't even get me started on the unicorn - you wanna talk privilege? Spend just one hour listening to that and tell me you don't want to slap the horn off a B*ch.
And then the Predator had that whole Epstien thing - that set us back. But what did you expect, his name is THE PREDATOR. Besides, have you ever seen his face? Just because he has dreads doesn't make him - you know what, I'm not even going to get into it.
How come I never got a sequel, but they made five home alone movies. FIVE.
They say the Sasquatch is Brown, but I'm not buying it - that dude's from Portland or some shit - he's probably just a dirty white.
You think I don't know what this is about? I know what it's about. I balled Grace Kelly and Jane Mansfield on the sly before all this colorblind love bullst. Even dropped a load on Marilyn - but Kennedy put an end to that. *cigarette drag Haven't worked since.
The Creature walked off from the interview after his agent called to let him know a studio exec had gotten back to him and that, unfortunately, they were "going in another direction."
---
Miscellaneous
From an Axios report - fewer Americans are trying to get out of jury duty. Historically, as many as 25% sought to be excused, now, that number is down around 5-10%. Coincidentally, another Axios poll reported 90-95% of Americans responded "I don't know, jury duty?" to the question "what would you do to not go back to the office?"
The White House is changing its approach to vaccinations to reach Americans who are still hesitant. The administration said they'll be ramping up efforts of "door-to-door" vaccinations - the team of nurses are known as "JohBiden's Witnesses."
A new study reveals that flies are willing to tolerate bad taste for caloric intake as hunger levels increase - the study gives new meaning to the phrase "that's good shit."
A Pew Research Center survey reports that two-thirds of Americans believe intelligent life exisits on other planets - although, it should be noted that two-thirds of Americans also laugh at "Uranus" and think "Pluto" is a cartoon dog.
Scientists have created a synthetic weight loss drug from the venom of Gila monster lizards. While rare, the most severe side effect includes growing 100 times your size and terrorizing Tokyo.