---
Crier Quotes
"The first time I met John Malkovich, I was nervous. The second time I met John Malkovich, I was in the back of a squad car."
- Edward Norton
---
Feature
Shocking New Report Indicates Your Home's Tiny Jeff Bezos May Be Listening, Recording, Reporting Back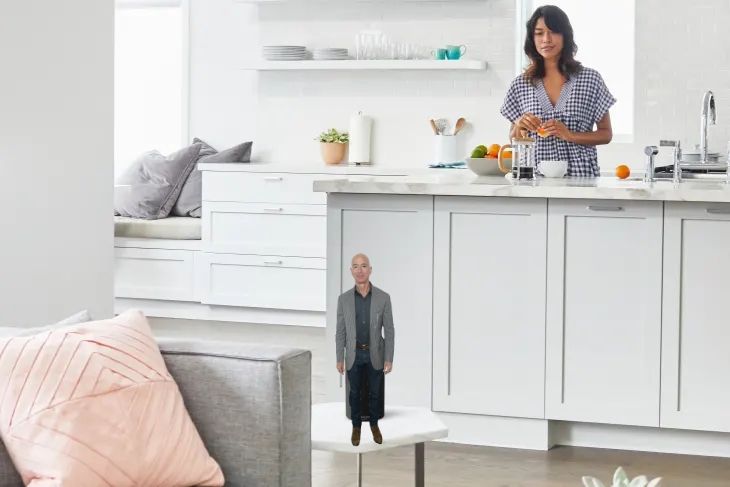 WASHINGTON — Calling the findings a serious breach of public trust, a newly published join-report by the Federal Trade Commission and Consumer Financial Protection Bureau indicates the tiny Jeff Bezos purchased by a majority of American households may be listening, recording, and reporting back to headquarters.
"Look, in a perfect world, you and I would be able to live our lives within earshot of our Tiny Bezos without having to worry about him running back to the hive with our credit card information, search history, and a treasure trove of juicy neighborhood goss," said the reports co-author Jennifer Newton-Cole, "but the reality is he's tracking your every move and letting top brass in on what makes you tick."
Lawyers for Amazon defended the practices of the company's Tiny Bezos saying, "The world would be a very different place without the help of our full line of Tiny Bezi. Now, does he have to leer from behind the box of tissues on your nightstand whilst you and your partner are in the throes of passion, maybe not, but he's a voyeur by nature — and to be clear, everything he sees, hears, and touches during these moments is strictly for quality assurance purposes. Let's face it, without the Tiny Bezos, we'd live in a world where you'd have to wait longer than a day to get the stuff you want. Is that something you're willing to do?. . No? Didn't think so."
At the printing of this newsletter, concerns in Washington were raised after it was brought to the commission's attention that the same could be true of the tiny Tim Cookes the nation carries in their pockets.
---
Miscellaneous
According to Intouch Insight's Annual Drive-Thru Study, Chick-fil-A was the restaurant with the fastest drive-thru line based on the total time cars spent in line. While Chick-fil-A was the fastest running drive-thru, Taco Bell held the top spot for fastest running-thru-you.
Senator Ben Sasse, a Nebraska Republican, plans to resign to become the University of Florida's president. When asked why he's leaving the senate and transferring to the University of Florida, he said "hotter chicks."
A woman who applied for a job at her local sheriff's office ended up being cuffed instead after her potential employer found that she had a slew of outstanding warrants. To be fair, the job ad did say candidates were "wanted."
After nearly 13 years at the helm of ABC's "Good Morning America," co-anchors Robin Roberts and George Stephanopoulos, both 61, are the longest-ever network morning show pair. To put how impressive that is in perspective, Roberts and Stephanopoulos have been together longer than anyone has ever been married to Jennifer Lopez.
South Korea's military said Tuesday that it's capable of detecting and intercepting North Korean missiles. South Korea's confidence in its ability to easily intercept the North's missiles comes from newly published military intelligence that North Korean missiles are thrown by the Detroit Lions.
The Supreme Court is weighing a California animal cruelty law that pork producers say could upend their industry and raise the cost of their products. It's the first big economic move on pigs since California lawmakers proposed defunding the police.
New research suggests the midlife crisis is real. People in their 40s and 50s, in rich countries, are prone to a rise in suicidal thoughts, job stress, depression, and alcohol dependence, according to a new paper from the National Bureau of Economic Research. "Way ahead of you," said Millennials.
According to data from Google trends, online interest in Vladimir Putin dying surged in Russia with the phrase "death of Putin" hitting peak popularity late Monday. And this is interesting, users who searched "when will Putin die" and "who will kill Putin" noticed regardless of what they started typing in their next search, it auto-filled to "I'd be careful if I were you"
President Joe Biden said Tuesday there will be "consequences" for Saudi Arabia as the Riyadh-led OPEC+ alliance moves to cut oil production. The Saudi government immediately sent a thank you note to Biden as it's "been a while since we had a good laugh."
A panel of medical experts recommended that doctors screen all children 8 and over for anxiety. The panel said their reason for the recommendation is "kickbacks."
Amazon Prime Day this week included discounts on DNA test kits. But the sale didn't end with Prime Day — Members can access the extended sale by using the promo code "Maury."
Angela Lansbury passed away this week at 96 — and if you don't know who that is, congratulations, you're young.
Workers pressure washed, primed, and painted the Hollywood sign ahead of its centennial celebration next year. The work being done solidifies the reputation of Hollywood — as even the signs get facelifts.