---
Crier Quotes
"Do you know who I am!?"
- The Muffin Man
---
Feature

Airbnb Announces Plan to Prevent Unauthorized Parties by Sending Over Greg from IT to Teach Dungeons and Dragons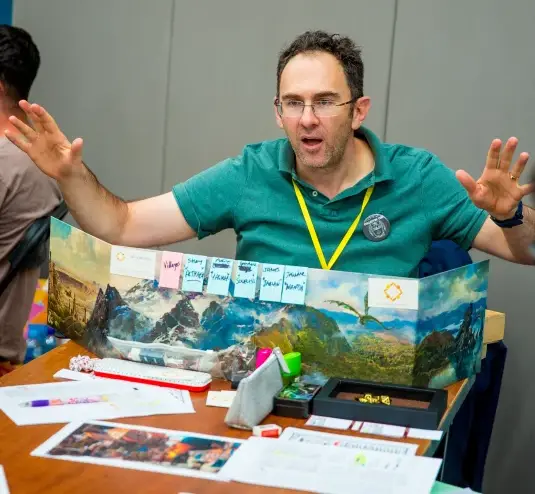 SAN FRANCISCO, CA — According to an announcement made Tuesday, Airbnb launched a new initiative to prevent guests from abusing host properties by sending Greg from IT to teach guests how to play Dungeons and Dragons.
"After extensive research conducted at the high school and collegiate levels, we've determined that nothing eliminates that possibility of a party like a near five-hour role-playing board game with a 320-page player handbook and 20-sided die," said Airbnb Chief Party Patroller Paul Bleakman, "Now, pair that with the charisma blackhole that is Greg from IT and you've got what we call in the biz a 'showstopper.'"
The company says Greg's role will be to facilitate game-play and a lengthy discussion on the difference between gnomes and dwarves. In the rare eventuality that this conversation comes to an end, Greg has been instructed to spark debate in his other areas of extensive expertise: the history of the bar code, insurance claims adjustments, and glue.
At the printing of this newsletter, Greg was seen polishing his die to ensure minimal drag whilst maximizing torque.
---
Miscellaneous
A chess grandmaster has offered to rematch long-reigning world champion Magnus Carlson naked following cheating accusations. We advise against the move as it's a well-known axiom in chess that you never leave your king exposed.
Apple announced a new feature that will let you edit and unsend messages on your iPhone. Apple CEO Tim Cooke said users will find the feature most useful whenever they need to win an argument.
Tom Brady became the oldest starting quarterback in NFL history last week. You could tell the older Brady had a few communication issues, but coaches quickly learned to call plays into his "good ear."
The Washington Post reports the most regretted college and university majors are the lowest paying. The journalists who uncovered the story will receive a Pulitzer Thursday.
A highly infectious bird flu strain was found in a Florida dolphin, the first known observation of transmission to the species. Scientists believe the dolphin contracted the disease after hooking up in Margaritaville.
A Delta passenger won an upgrade on their flight to the airline's Comfort Plus section by a dance-off. It's the first time a Delta passenger has said "you wanna dance?" that didn't end in bloodshed.
Fred Franzia, of Franzia wine fame, died on Tuesday at age 79. Per his final Will and Testament, Franzia will be the first person buried in a box with a spout.
Nick Cannon welcomed his ninth child with six different women this week with two more on the way. When Cannon's 11th child is born, he will officially become a Mormon elder.
Two-thirds of US superintendents say overall vacancies are higher this year than last year as the nation's teacher shortage continues. Superintendents say the shortage is fueled by a combination of older teachers retiring and younger teachers joining OnlyFans.
President Biden spoke with England's King Charles for the first time this week. The two had a lengthy discussion regarding the advancements in saltwater taffy.
Buckingham Palace announced that a period of mourning for the Royal Family will be observed until seven days after the funeral of Queen Elizabeth II. For some in the family, it may take longer to get over the Queen's passing, notably William, who is said to still be mourning his hairline.
A growing number of men are getting expensive surgery that lengthens their legs to make them taller. According to reports, the number of men getting the surgery is directly proportional to the number of women who say "that's not what needs lengthening."
Florida Governor Ron DeSantis sent two planes full of immigrants as a surprise to the affluent Massachusetts island town Martha's Vineyard this week. Residents were shocked they watched the migrants from outside their windows — said one woman, "Honey, did you hire new gardeners?"
By a slim one-point margin, Afghanistan beat Lebanon for the country with the unhappiest people. While both countries are currently experiencing political and economic turmoil, residents in Afghanistan say it's just impossible to find a good pair of jeans.